The Pergola X Comes in 4 Models
TraX System
A fully customizable addition to any StruXure product.
A natural upgrade to our Pergola X, the TraX™ System takes the control you have over your outdoor space to the next level allowing screens and lights to be seamlessly integrated into the anatomy of your pergola.
The TraX™ system is fully integrated into the overall functionality of the Pergola X, whether it's a new build or an existing structure. The hood allows for the installation of any Somfy®-compatible motorized screen. Now you can adjust both your louvers and your screens for maximum comfort and protection. TraX™ Components
The TraX™ System comes in three sizes, each able to accommodate a different number of cables and configurations of LED strip lights. The TraX 2 (2"), TraX 6 (6"), and TraX 8 (8") are each sold in 16', 20', and 24' lengths, and can be cut to exact specifications. Each TraX™ can be installed horizontally within the Pergola X beams and/or vertically within the posts. Hood Components
The TraX™ Hood comes in one size, 8"x8", and can accomodate screens from all Somfy®-compatible screen manufacturers. Caps come in two options: the TraX™ Cap, which is made of aluminum, or the TraX™ Lens Cap, made of frosted polycarbonate.
Pergola X Upgrades
Somfy Operating System

Somfy has spent the last 50 years assisting and making life easier for millions of users around the world. With over 2,000 patents filed, they are constantly creating new solutions, reliable and sustainable, that improve life and well-being.

Wind Sensors

When winds reach 60 MPH the wind sensor will automatically open the louvers to allow wind to move freely throughout the system. This will minimize uplift during high wind conditions.

MyLink™

Optional MyLink™ enables full control via StruXure app to control your system on any smart device. MyLink™ is the integration source for a variety of control options for your StruXure system.

Remote Controls

Wireless wall switch can provide a wide range of control over your system from inside or outside the home. No wiring or electrician required.

Rain Sensors

Our sensors will automatically close the pergola upon detection of rain. Never worry about wet cushions. Intuitive automation does the thinking for you.

Wireless Wall Switch

Damp rated hand-held remote offers a traditional means of controlling your system. Set your 'favorite' position for quick and easy means of enjoying your outdoor space.

Voice Command

Operate your system through simple voice commands by integrating leading technology, including Amazon's Alexa, Google Assistant and more.
Cabana X Comes in 2 Models
Cabana X provides a unique space to connect your mind, body and spirit — to enjoy the outdoors while remaining protected from the elements.
At approximately 10x10 it can be a yoga studio one day and a dining room the next — Cabana X is a blank canvas that can be adapted to whatever you need it to be.
Core
4 POSTS + 4 BEAMS + 17 LOUVERS + your heart desires.
Premium Powder Coat Finish
Motorized Adjustable Louvers
Powered by Somfy (Hand-held Remote)
Easy Power Plug
Post Height Adjustment
Stainless Steel Hardware
Modular Configuration Ready
Enhancement Ready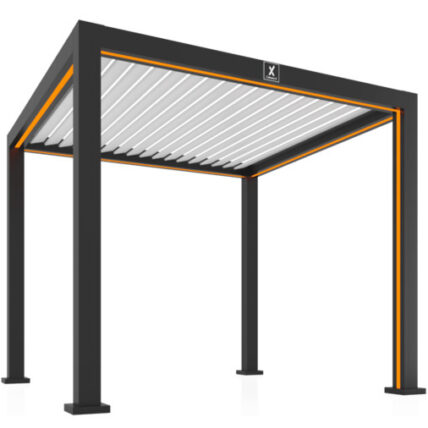 Tech
CORE+
Controlled LED Lights (RGB Color Changing)
App Controlled
Environmental Detection – Temperature | Humidity | UV Radiation | Air Quality
Louver Control
Lighting Control